CATIA® is a registered trademark of Dassault Systemes and has no affiliation with Practical Catia Training.
---

---
Want to try CATIA Version 5?

You are about to get your first experience with CATIA Version 5.
In the following scenario, you will be shown a typical CATIA Version 5 sequence of operations. Screen shots will appear exactly as they would if you were interacting with CATIA itself.
You can either work as in CATIA Version 5 (select in the redlined zone) or navigate with the back & next arrows: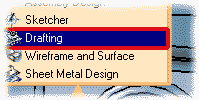 Try it now!
The CATIA V5 Demos appear courtesy of IBM
---
Disclaimer: The Practical Catia Training course is not offered as vocational training or as qualifying one for any particular employment. There are no course credits transferable to any accredited educational institution.