CATIA® is a registered trademark of Dassault Systemes and has no affiliation with Practical Catia Training.
---

TESTIMONIALS
My sons and I have received literally hundreds of wonderful cards, letters, and emails regarding our CATIA training since we began offering our Practical Catia Training course in 1995. Below are just a few of the testimonials we have received over the years.
---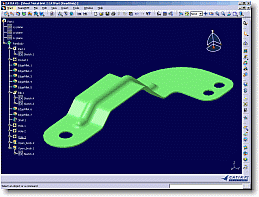 I just wanted to tell you that your CATIA V5 training class was the best CAD training class I have ever had and I have been trained in many in my 25+ years in the business.
I was very excited to go to class because your class was teaching me how to design similar parts that I was working on every day with the new tool and your patience is awesome, You have a very unique planned out way to teach that is easily comprehended and I never left the class with unanswered questions or feeling like you went too fast - the 2 man team training worked out great. I feel that you had covered just the right amount of each workbench to do what I need to do and continue on by myself and learn more of the tricks in each one as I go. "Practical CATIA" say's it all, no more being trained on a new CAD system - designing blocks and other tools, If I am a product designer - I want to learn how to design the actual parts that I will be designing at work.
I have compared my notes with the other guys that trained at a local college and there is no comparison, I have learned more in less time and I have learned exactly what I needed to learn to take off running, and I am.
Just wanted to say thanks.
Chris Moore, Design Leader J56/J61 Mazda Team"
---
I have wanted to write and thank you Keith and Adam for the great experience I had in your CATIA V5 class this past March. You'll notice that I stated "I have wanted to write" but I am having a difficult time coming up with a way to describe the exceptional experience. I have been a designer for 15 years and have always had problems comprehending other classes but I didn't experience this in your class because of the way the information is presented nor did I ever feel that I couldn't do any of the exercises that are part of the training. In 2003 I had taken a CATIA V5 class that was 80 hours long through another company and I have to say that I not only learned more in Practical CAD Training but also came away with the confidence that I could design using CATIA V5. I wish the best success for you, Adam and Practical CATIA.
--D. Nester, Product Designer
---
Hello Keith,
My name is Cédric Simard. I work in Dassault Systèmes1 HQ in France, and I'm in charge of worldwide marketing and communication for Dassault Systèmes Education offering. After hearing so much good about you, I'm happy to have the opportunity to contact you. I'm investigating ways to develop awareness and generate leads for our certification programs. I recently created two ad banners (size: 468 * 100 pixels) to be used to promote our certification programs: I'm asking you to place the banners on your (practicalcatia) web site so that Dassault Systemes can gain a bit more of visibility for its certification programs.

So, what do you think? Do we go for it?
--Regards, Cédric Simard - Dassault Systèmes - Worlwide Education Marketing
1 Dassault Systemes develops and owns the CATIA® software, while its longtime partner, IBM, is in charge of marketing, licensing, and distribution.
---
I saw your website regarding CATIA training and demonstrations. I'm with IBM 2 in the group that sells CATIA. Thanks for demoing V5. There is a new CD coming out that is called hobbled code. You won't be able to print or save drawings, but you can do most other things in CATIA. If you're interested, I can send when they're available.
--Pam Barton - North American Channels Manager - (IBM) Product Lifecycle Management Solutions
2 IBM has been partners with Dassault since 1981. IBM is responsible for marketing, sales, licensing, and distribution of the CATIA® software. The "Hobbled Code" software was a promotional version of CATIA® V5 that IBM distributed to develop awareness and stimulate sales of CATIA® V5.
---
Just thought I would drop you a line and to say hello, hope you are doing well. The (online) training I received through your course has really made a difference in my employment, now I am in Tulsa, OK working for Spirit Aero Systems, I am a Quality Engineer and its because of what I received through your instruction, it was hard but it was well worth it. So in closing, the best to you and I hope you are over run with students needing your help, you are the best.
--Sincerely, David Whitehead
---
Hello Keith, I'm not sure if you remember me, but I hope so. This is Susan, you taught me CATIA v4 & v5. I sent a friend to your class and he gave you a great compliment. I told him that you were the greatest! Your training changed my life. I know I wouldn't have landed this position or been capable of doing a great job for this company if it wasn't for your practical teaching. Thank you.
--Susan Pryor
---
Practical Catia Training may be the Premier Catia training facility nation wide, it's already the Premier facility in Detroit.
--Nathan Haller, MSC Software 3
3 MSC Software is an IBM/Dassault Business Partner, an authorized CATIA® reseller responsible for marketing and licensing of the CATIA® software to medium and small businesses. MSC Software is also a company in which Dassault Systemes owns a 10% share.
---
Wanted to let you know I've spoken with several designers who have taken your V5 course and said the training was excellent. These are people that I know and really value their opinions. They all said the same thing about it "Very Comprehensive, hands on information that a user can really utilize. Compared to other training this course would rate a "10"!
--Mary Jo Whittaker, The Bartech Group
---
Just wanted to let you know how much I enjoyed your Practical CATIA class. I have had training classes in the past that left me with the "herded cattle" syndrome that I associate with the "canned" class structure. Yours was different, refreshingly so. I thank you so much for the personal attention received while in your class, and the fact that you can teach what one needs to know beyond the basics. I would recommend your course to anyone who would want to know how to utilize the software for actual applications.
--Hjalmar E. Breit IV, Whitesell Corporation, Muscle Shoals, AL
---
The first Practical CATIA course I took was for V4, the class structure was very accommodating to any design level and I was finally able to apply (real world) CAD design tactics to class projects that made sense… that is what I was looking for. That experience was rewarding enough that when it came time for V5, I knew exactly where to go… Practical CATIA!
Keith Childress is an educator. He has taken his "old school" skills and knowledge from his years of working on the board and blended them with the tools of today. The design and CATIA knowledge he has to share is invaluable and I highly recommend his services.
Thanks again Keith for a very rewarding learning experience.
--Mark Davenport, Senior Product Design, TAKATA Inc.
---
Thanks for the training. I really enjoyed being there for a week. Your facility is perfect for learning. Thanks for your hospitality too. It felt like being at home & learning.
Also tell my thanks to Adam & Donna for their helping.
Thanks & regards,
Rama Reddy, Satyam Venture Engineering Services
---
"I would like to thank you for the training and lunches and the comfortable atmosphere the entire week. It was truly helpful and a great training experience. I would also like to thank Adam for all the help as well. I will definitely refer anyone looking for CATIA training your way."
--Curt Gillem, Lattimore & Tessmer
---
"Practical CATIA is the best time I've invested in upgrading skills for drawing and design . I enjoyed every day's lessons and am excited at new opportunities to demonstrate the tools and knowledge that Keith has past on. Keith has showed me practical tips and tricks on CATIA that he learned during his extensive career experiences in automotive. I don't know any other CATIA programs out there that exceed the credentials that Keith Childress has. The course's progressive format is laid-out perfectly the way tools are built on and practiced throughout. Keith definitely demonstrates teaching characteristics that make CATIA fun and easy to learn. I am recommending Practical CATIA to anybody that likes to draw or model as I do."


--Derek Newcombe, Product Designer, Windsor, ON.
---
"Wow!" ..."That was my reaction after I finished the 8-week Practical CATIA class. That one class contained more information than the regular college courses could ever offer. Not to mention that I was able to retain the information better because of the small size of the class. I never considered that in a large class you get less personal attention. In the Practical CATIA class, it's more of a one-to-one association (which is unheard of in a college class). Whenever I had a question, Keith was right there with an answer. He was more knowledgeable about the CATIA field than some of the instructors I've had in the past. Keith explained the concepts of CATIA in depth, rather than just telling me what to do. He let me do it, and therefore I learned how to do it. It gave me great experience, along with a lot of useful knowledge. As far as the class goes, it far exceeds the standard knowledge that is needed to get a position in the Design Field, or any field that uses CATIA. An as for the instructor, I have to say "Thank you, you are very knowledgeable about CATIA". I have recommended the class to many people, to help them get started in the field. I know there are plenty of people that could use a class like this one. It is well worth its weight in gold."
--Robert Verhelle, Control Project Engineer, Lamb Technicon
---
"I just wanted to take the time to express my appreciation for the excellent training, and teaching experience that I received in your Practical CATIA V5 class. I know that many of the techniques we learned could only come from someone with the experience and knowledge of the business, that you have. I would definitely look forward to the next course if it becomes available, dealing with surface development. I would recommend your course to anyone I know in the business, who is willing to learn."
--Frank Richter, Product Designer
---
"I wanted to take a moment to drop you a quick email and let you know I think the class is great and i like your forwardness with regard to the industry. In my opinion, your class is a fantastic deal. In fact, I sent a friend of mine to your next class. Thanks again for the great price."
--Dave Scheuer, Senior Product Designer/Instructor
---
"Working for an international and Tier-One packaging supplier for the automotive sector, I am faced with diverse assessment methods. Each OEM practices different software, logistical, and material- handling requirements. Our company was lacking in the proficiency of CATIA-based packaging. Practical CATIA helped me establish the basic concepts I needed to start designing prototype packaging for Daimler Chrysler. Practical CATIA is exactly what it states --"Practical". Instructor Keith Childress was able to identify our business needs and emphasize certain concepts during class. Practical CATIA is a professional course with a personal touch."
--Rob Harris, Packaging Engineer, ACE Packaging Systems, Inc. (Monroe, MI)
---
Words cannot begin to describe how great it has been to have you as an instructor. I knew you had to be good when I first read your article in CATIA Solutions Magazine. But you have exceeded my expectations, and my expectations are usually pretty high.
I know from my own experience that being competent in something and being good at teaching it are two different things altogether. You are truly great at both.
Thanks for making our learning experience so effective and enjoyable.
--Jun Iwamoto, Manager, Nifco LLC (Columbus, OH)
---
Hi Keith, I just finished up your course with your son Todd. I just wanted to pass that on that Todd is very good and very professional and I enjoyed the course very much. Thank you. --Steve Jackson, Senior Product Designer, MI
---
Todd: Thanks so much for the great course in CATIA. At least I now know how to interact with designers and engineers, and am able to talk intelligently about future positions. Best Wishes,
--Glenn Foster
---
I had taken a CATIA course and been using CATIA on the job for more than a year before taking Keith's class. I believed I had not acquired a good fundamental knowledge from the other course. They taught theory, not practical application. I learned more in a couple of evenings in Keith's class than I did during the entire 40 hours in the other course. As someone who has worked in the design and engineering field for more than 20 years, I high recommend the Practical CAD Training course.
--John K., Senior Product Designer, Troy, MI
---
Keith, I just wanted to send you a quick note to tell you that we thoroughly enjoyed your son, Todd. He is an awesome teacher and a great person in general. I can't say enough nice things about him. We're glad we had the opportunity to have him teach us the lessons.
Thanks!
--Joann & Lee
---
Todd, as I stated to you before, I have taken V5 basics twice before, but the previous times were in traditional classroom settings, with other students. This one-on-one (online) setup is absolutely the best! Thanks for all your help and patience.
--Terri in Virginia
---
Keith, The job at Honda is going good. I'm not really doing any design, more getting models ready to be released. None the less, I'm glad I had the training; it got my mind "thinking" again! Brandon did a nice job. I would highly recommend him.
--Thanks, Joann
---
Disclaimer: The Practical Catia Training course is not offered as vocational training or as qualifying one for any particular employment. There are no course credits transferable to any accredited educational institution.