CATIA® is a registered trademark of Dassault Systemes and has no affiliation with Practical Catia Training.
---
LIVE, ONE-ON-ONE, INTERNET-BASED
(ONLINE) CATIA TRAINING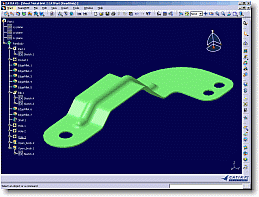 Until 2003, the only way to attend our Practical Catia Training sessions was to enroll in one of our onsite classes here in the Metro Detroit area. However, with the ever-growing popularity of high-speed internet connections, such as cable and DSL, it became possible to bring Practical Catia Training to those of you who live in areas, or have schedules that make attending our onsite classes impractical. In an effort to satisfy the needs of those who can not personally attend one of our Practical Catia Training sessions, we created our live, one-on-one, CATIA online training solution called Practical Catia Internet-Based TrainingTM.
With the Practical Catia Internet-Based TrainingTM solution, you sit in the comfort and privacy of your own home or office and interface one-on-one with a Practical Catia Training instructor via the Internet. Using sophisticated new technology, the student is able to view and operate CATIA V5 on the instructors computer while the instructor watches. The instructor and student engage in a real-time dialogue while control of CATIA is passed back and forth between the student and instructor. It is truly like having the instructor sitting next to you.
Don't have CATIA V5 software??? You don't need it with Practical Catia Internet-Based TrainingTM solution. You're able to use CATIA V5 on the instructor's computer as if were installed on your own. Plus, you will be allowed extra practice time before and after the training session.
Click here to view a demo of a live training session
---
If you'd like to try a live demo of the online training, send me an email and we'll set a time to connect and I'll personally show how it works before you make a commitment to the training. All you'll need is a high-speed internet connection (cable or DSL). Send the email to brandon@practicalCATIA.com.
---
How It works
The student simply installs a small program on their computer that allows them to interface with the instructor's computer. The student and the instructor will meet online at predetermined times. The instructor will do a lecture while the student watches and asks questions. The student will then do the assignment while the instructor observes. This is no different than if the student and instructor were sitting in the same room together.
Practical Catia Internet-Based TrainingTM covers the following CATIA V5 Workbenches:
Part Design

Sketcher

Generative Shape Design (wireframe and surface)

Generative Sheetmetal Design

Assembly Design

Drafting

Parametric Modeling Fundamentals (not a workbench)
---
Testimonial
"Between my business and my family I have a very hectic schedule. I needed to learn CATIA V5, but I couldn't afford to hop on a plane and take a week out of my life to attend a class in some far-off place. I checked into a couple of the online courses, but none them offered live, one-on-one training. That is until I came across Practical Catia Internet-Based TrainingTM. It was the perfect solution. It offers personalized instruction without the pressure of a classroom environment. I was also able to work at my own pace and at times that suited my schedule. As such, I didn't have to miss any work time, Cub Scouts, or my kid's soccer games. And the technology is amazing. It was like have the instructor sitting in the chair next to me. This was truly a wonderful experience."
-- Gerald H., Birmingham Alabama
---
Cost
The regular price is only $1699 . , However, for a limited time, the price is now only $999 (USD).
We accept MasterCard, Visa, Money Orders, Cashiers Checks and PayPal.
To schedule a live demo, or to register for a class, please phone 586.693.2585, or send an email to brandon@practicalcatia.com.
---
Value
According to a CATIA Solutions Magazine survey conducted a few years ago, the average cost of CATIA training in the US (then) was $1800 (USD) for a basic course. If you do not live in an area that offers CATIA training, the cost of round-trip airfare is approximately $400. A 5-night stay in a economy hotel/motel is approximately $400. Meals and transportation could add up to another $200. The total cost would be approximately $2800. When you consider the money you would save on airfare, meals and lodging, the cost of Practical Catia Internet-Based TrainingTM is FREE. And you would never have to leave the comfort and convenience of your home or office.
---
What you will need
All you need is a laptop or desktop computer with a high-speed internet connection (DSL, Cable). That's it.
---
Disclaimer: The Practical Catia Training course is not offered as vocational training or as qualifying one for any particular employment. There are no course credits transferable to any accredited educational institution.